"My Second Most Embarrassing Moment in Prison"
After a big scandal where a couple of civilian employees were caught smuggling in contraband, the facility was put under lockdown, while a team searched the entire compound, every building, every office and cell, for drugs and weapons. This happens once or twice a year and can last anywhere from one to twenty days, depending on the scale of the operation. I've been in lockdowns at other facilities that've lasted two weeks. During this time, no one is allowed to leave their room or cell.
The officer who searched my cell seemed like a rookie, very young, following every rule to a tee, taking apart pens, deodorants, sticking his fingers into shampoo and lotion bottles looking for hidden objects: drugs, knives, anything sharp that could be used as a weapon.
Well when he stuck his finger into a bottle of body lotion I had on my desk, he claimed to have felt something.
"What do you have in here?!" he barked.
I went numb with fear and confusion- it was the same exact feeling I had had a year earlier, when an officer handed me a misbehavior report saying my urine had tested positive for THC, when I knew it was clean. Damn it! I thought. What the hell could've been IN this bottle, and who could've put it there?
I should explain here the serious nature of these lockdowns. Being caught hiding any kind of contraband, be it drugs, gang-related material or- worst of all- weapons, can get you not only at least a year in the SHU, but even a whole new charge! And a Weapons Possession charge is no joke. Besides a year in the SHU, you can expect another three years added to your original sentence. I was stunned and terrified. If found with a shank or something similar hidden in a lotion bottle, what, exactly, would I tell everyone? "I've never seen that before in my life! It's a set up, d'ya hear! A set up!"
Like anyone would actually believe me!
When the officer reached his fingers inside the bottle and pulled out a slender, four-inch plastic tube, rounded at the end, like a…like a tampon…my jaw fell to the floor, in total shock.
"What do you do with this?!" he snarled, face contorted in disgust. I saw immediately what this guy was thinking: Homo. Hidden plastic tube. He's using this thing as a dildo!
My face turned beet red, it was so humiliating. And, yet…what was this thing?
Unsure what to do, the officer called other officers over, a sergeant came and they all huddled, talking in hushed voices, glancing at me periodically with ashen, nauseated faces. It was then when I remembered, this bottle had originally been manufactured with a "pump" on the top, where you press down to deliver the lotion. Bottles with pumps aren't allowed at this facility for whatever reason, so the store it came from had had it removed before shipping. This plastic tubing was surely a remnant of the removed pump!
"Hey guys!" I called out cheerfully, trying not to sound like a guy guilty of hiding a dildo. I needed to clear my name! Let them know I'm not some crazed, anally-obsessed sex-maniac! But by now, the huddle was disbanding. "I don't write tickets for sex toys," the officer spat sharply as he returned to finish searching my cell. I tried explaining what the damn thing was, but every time I opened my mouth he put his hands in the air, as if to say, "Not another word out of you, you freakin' pervert!" I sat quietly on a bucket for the next 30, very long minutes, watching the officer- suddenly wearing a pair of blue plastic surgeon's gloves- searching my cell, a look of repugnance on his face, knowing the whole time he's thinking I was totally fucking myself with that darn ol' piece of plastic!
Photographed by Vanderperre and styled by Olivier Rizzo. Read the interview at ONTD.
Chanel sneakers.
FASHION TV - Mila Schon Fall/Winter 2013-14 FULL SHOW | Milan Fashion Week MFW | FashionTV - Style Fashion & Beauty
Doutzen Kroes - Vogue Germany by Daniel Jackson, March 2013
(via bohemea)
BY RORY DESMOND
I'll admit it, I didn't watch the Oscars. In fact, I never do. All I care about is the runway show. It was hard to chose the best dressed, but if I had to, I would say Jennifer Lawrence. Big surprise.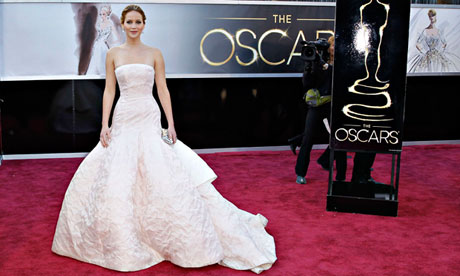 Jennifer Lawrence in Christian Dior. This was definitely her night, she won the Oscar, and the dress. It was simple and dramatic, the color is PERFECT. I love the detail at the bottom, her swept back hair was a great choice, and her subtle jewellery and silver clutch all work together so nicely. Bravo, girl!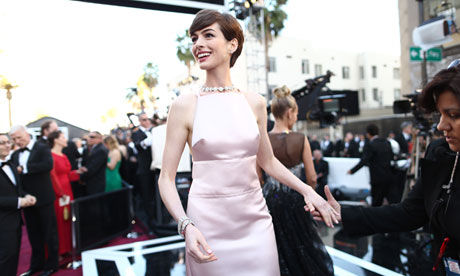 Anne Hathaway in Prada. I want to like the dress, but it's the nipples. It's not really her nipples, actually, hey are darted seams in the fabric. You can tell that the satin is much too heavy for nipples to bore through like that. It's just too angular and sharp. On the contrary, I like her hair, it brings Julie Andrews to mind.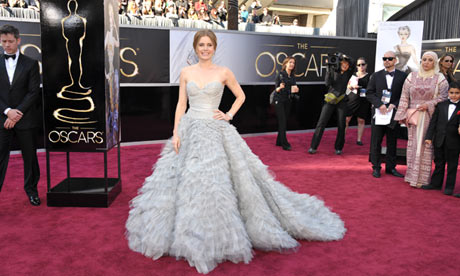 Amy Adams in Oscar de la Renta. I love the dress, but it would have worked better in black, not this dishwater grey. Redheads don't look good in grey, nor does this dress. Also, the bottom half of the dress is a bit too busy where it distracts the attention from her face.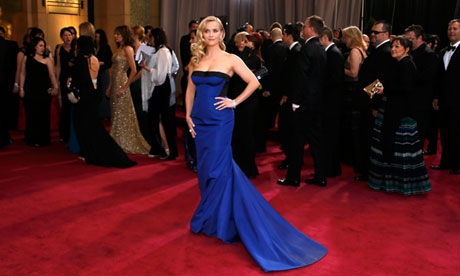 Reece Witherspoon in Louis Vuitton. Again, I like the dress, but the wrong person is in it. It does NOTHING for her figure. She should have worn something that complimented her new mommy curves.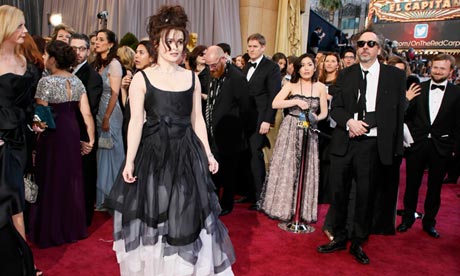 Helena Bonham Carter. THAT NECKLINE! It's straight from the 1980's and 1990's. A low-scoop with plenty of cleavage, nobody wears this neckline anymore. But it's Helena Bonham Carter, she doesn't care. She's quirky, confident, and beautiful, and she can make anything work.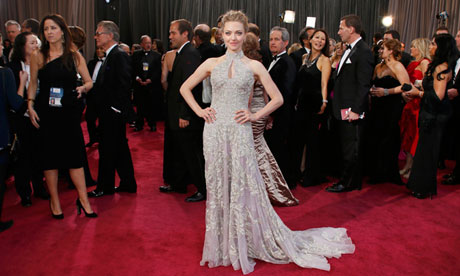 Amanda Seyfried is in Alexander McQueen Again, beautiful dress, but the wrong person is in it. I'll say it again: REDHEADS DON'T BELONG IN GREY!
Halle Berry in Versace. DREADFUL. I hate it, she looks like Ziggy Stardust. Girl, what were you thinking?